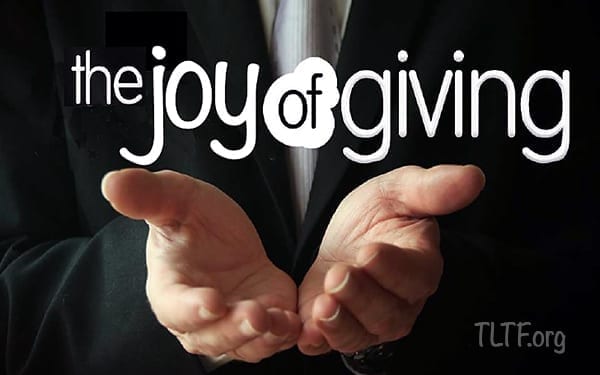 God bless you SUPER-abundantly! The main "takeaway" truth from this last letter of 2018 is expressed in the following verse, which debunks today's independent, self-made-man mindset so prevalent in our western culture and orients us to our Heavenly Father as the source of all good things (Ps. 84:11).

1 Corinthians 4:7
For who makes you different from anyone else? What do you have that you did not receive?And if you did receive it, why do you boast as though you did not?

When it came time to put together the "money" to build the magnificent Temple in Jerusalem, 1 Chronicles 29 says that King David and the leaders of Israel "willingly" gave what would today be the equivalent of millions of dollars—of their own gold and silver! David's ensuing words of praise to God are words we should remember—and practice.

1 Chronicles 29:10-17
"Praise be to you, LORD, the God of our father Israel, from everlasting to everlasting. 11Yours, LORD, is the greatness and the power and the glory and the majesty and the splendor, for everything in heaven and earth is yours. Yours, LORD, is the kingdom; you are exalted as head over all. 12Wealth and honor come from you; you are the ruler of all things. In your hands are strength and power to exalt and give strength to all. 13Now, our God, we give you thanks, and praise your glorious name. 14"But who am I, and who are my people, that we should be able to give as generously as this?Everything comes from you, and we have given you only what comes from your hand. 15We are foreigners and strangers in your sight, as were all our ancestors. Our days on earth are like a shadow, without hope. 16LORD our God, all this abundance that we have provided for building you a temple for your Holy Name comes from your hand, and all of it belongs to you. 17I know, my God, that you test the heart and are pleased with integrity. All these things I have given willingly and with honest intent. And now I have seen with joy how willingly your people who are here have given to you.

Here's the deal: Our enthusiastic material/financial giving gratefully acknowledges God's ownership of all we have. As you know (and may have tattooed somewhere on your person), WORDS HAVE MEANINGS, and I trust you note the distinction between "own" and "use." Our cultural emphasis on immediate gratification tells us we must own something, we must own it now, and that we must borrow whatever is necessary in order to "own" the house/car/TV, etc. Of course, then we don't really own these things, the bank does.

As per the above quote from King David, giving is also a form of worship, that is, paying honor and homage to God and our Lord Jesus. Giving shows your trust that God will "multiply the seed you have sown and increase the fruits of your righteousness, while you are enriched in everything for all liberality, which causes thanksgiving through us to God" (2 Cor. 9:10-11).

In this FRUIT OF D'VINE, I enthusiastically ask you for as generous a year-end gift as you can give to this unique ministry, and also for your regular support in 2019. I'm never shy about asking you to give, because I know what the Word says about how God will richly bless those who do—and I know it experientially also. Furthermore, my heart is the same as Paul's for you in his clarion call describing the heart of a genuine minister of the Gospel.  "Not that I seek the gift, but I seek the fruit that abounds to your account."

Yes, we do need money to run TLTF, but we want you to reap the full harvest of your material giving in this life—and in the next. God and the Lord long to bless each of us, both now and at the Judgment Seat of Christ, as per this verse: "Such trials show the proven character of your faith, which is much more valuable than gold—gold that is tested by fire, even though it is passing away–and will bring praise and glory and honor when Jesus Christ is revealed" (1 Pet. 1:7). By the way, that "praise and glory and honor" will come from JESUS to YOU!

For the past few years, about 200 brethren have contributed to TLTF—not that large a donor base, and only one-fourth of those precious saints have given $25 a week or more. I say that first to indicate how much we value each one of our contributors, and second to emphasize how gracious God has been to provide for us to the point where we currently have money in the bank to pay for our new website, which is a significant investment. If you'd like to donate something toward that, great. Elizabeth and I spent our own money to buy the used RV in October, and TLTF will pay me the IRS-allotted business mileage rate during my upcoming ministerial travels.

This month marks the end of our ninth year of operation in TLTF, which we started "from scratch" in 2010. Franco Bottley is still our only worker receiving fulltime pay. Christina Bottley, our Social Media Coordinator, receives part time pay. Don Chamberlain (Prayer Team Coordinator) and Rosanne Martino (Bookkeeping) continue to do a great job for us as volunteers. Presently, Franco is working long hours putting together our new state-of-the-art website, which he hopes to have up and running by the end of the year.

As you may know, when it comes to financial giving, the biblical principle is that we believers are to "give in response to a blessing." IF you have been touched by the work we are doing in TLTF, and IF you believe in what we are doing, and IF you would like to see others benefit from it, please share financially with us, both this month and in 2019. Please don't think that something like $10 a week won't help us, because it does. Something over nothing adds up.

We want our work to so touch your heart that you gleefully and hilariously contribute to TLTF. That is, you can barely lick the envelope because you are laughing so hard about the privilege to give. That is the attitude described in 2 Corinthians 8 and 9, as per the following excerpts.

"They gave as much as they were able, and even beyond their ability. Entirely on their own, they urgently pleaded with us for the privilege of sharing in this service to the Lord's people. And they exceeded our expectations: They gave themselves first of all to the Lord, and then by the will of God also to us…"

"For if the willingness is there, the gift is acceptable according to what one has, not according to what one does not have…"

"Show these men the proof of your love and the reason for our pride in you, so that the churches can see it…"

"Each of you should give what you have decided in your heart to give, not reluctantly or under compulsion, for God loves a cheerful giver. And God is able to bless you abundantly, so that in all things at all times, having all that you need, you will abound in every good work."

Think about the superlatives in that last verse! Yes, it is in the context of material prosperity, but God has the same desire to do this Ephesians 3:20 kind of thing in each aspect of your wonderful life.

Sharing of our material possessions is a very concrete way by which we can measure both our own commitment to God and the degree to which He blesses us materially. No matter the economic conditions, God challenges His people to "prove Him," so let's "step out of the boat" and watch Him make the financial water firm beneath our feet. If you do support TLTF, you know that I personally acknowledge every gift we receive. But again, on behalf of all our TLTF leadership nucleus, THANK YOU, THANK YOU, THANK YOU!!! And if you can increase your giving for 2019 by any amount, that would be a BIG help.

It's hard to believe, but 2018 is almost gone. "His-story" continues as the ages pass, and I believe you are aware of the distinct privilege God has given you and me to understand His Word to a degree that very few brethren who have gone before us have been taught. Therefore, let us "make hay while the SON shines." And we can do so knowing that each day brings us closer to that thunderous WHOOSH! Huh?

Yes, you know, that sound your computer makes when you hit SEND. Well, think how it will sound when each of us tens of millions of Christians blasts off to meet the Lord in the air. The rest of the population will probably chalk it up to a sonic boom, but we'll know better. See you there!